Social Media Guide
---
Make sure to follow Occidental College on Facebook (@Occidental), Twitter (@Occidental) and Instagram (@occidentalcollege). Use #DayForOxy to help spread the word! Below are some sample social posts you can use prior to and on the Day For Oxy.
---
Graphics
Utilize our Day For Oxy downloadable graphics to make your posts stand out on social media. Click here to view all Day For Oxy social media graphics, Zoom backgrounds and more!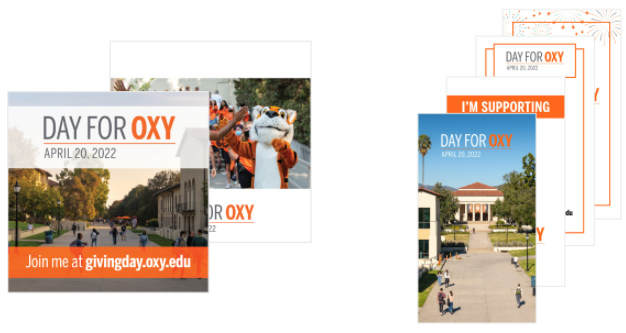 ---
Sample Posts for Before Day For Oxy


I'm counting down to #DayForOxy on April 20! Join me and the @occidental community in supporting today's students, faculty and staff. Givingday.oxy.edu
Io triumphe! Show your @occidental Tiger pride this April 20 on #DayForOxy:
Givingday.oxy.edu
. Let's support today's students, staff and faculty!
---
Sample Posts for During Day For Oxy


It's #DayForOxy and I'm showing my support to @occidental students, staff and faculty as they rebuild the Occidental community and start a new chapter in the College's 135-year history. Join me at Givingday.oxy.edu.
Today's the day to join in and be one of the 2,022 @occidental Tigers to support Oxy's students, faculty and staff. Make an impact at Givingday.oxy.edu! #DayForOxy
Let's help the Oxy community begin a new chapter in the College's 135-year history. It's #DayForOxy, and we have a chance to make an impact for today's students! Givingday.oxy.edu
Facebook
Twitter
Instagram
---
Tips