Advocating For Oxy
---
Thank you in advance for helping Oxy reach our 2,022 donor goal to support students, faculty and staff as we renew and rebuild our campus community – together again. Just follow these easy steps to become an official Day For Oxy Advocate: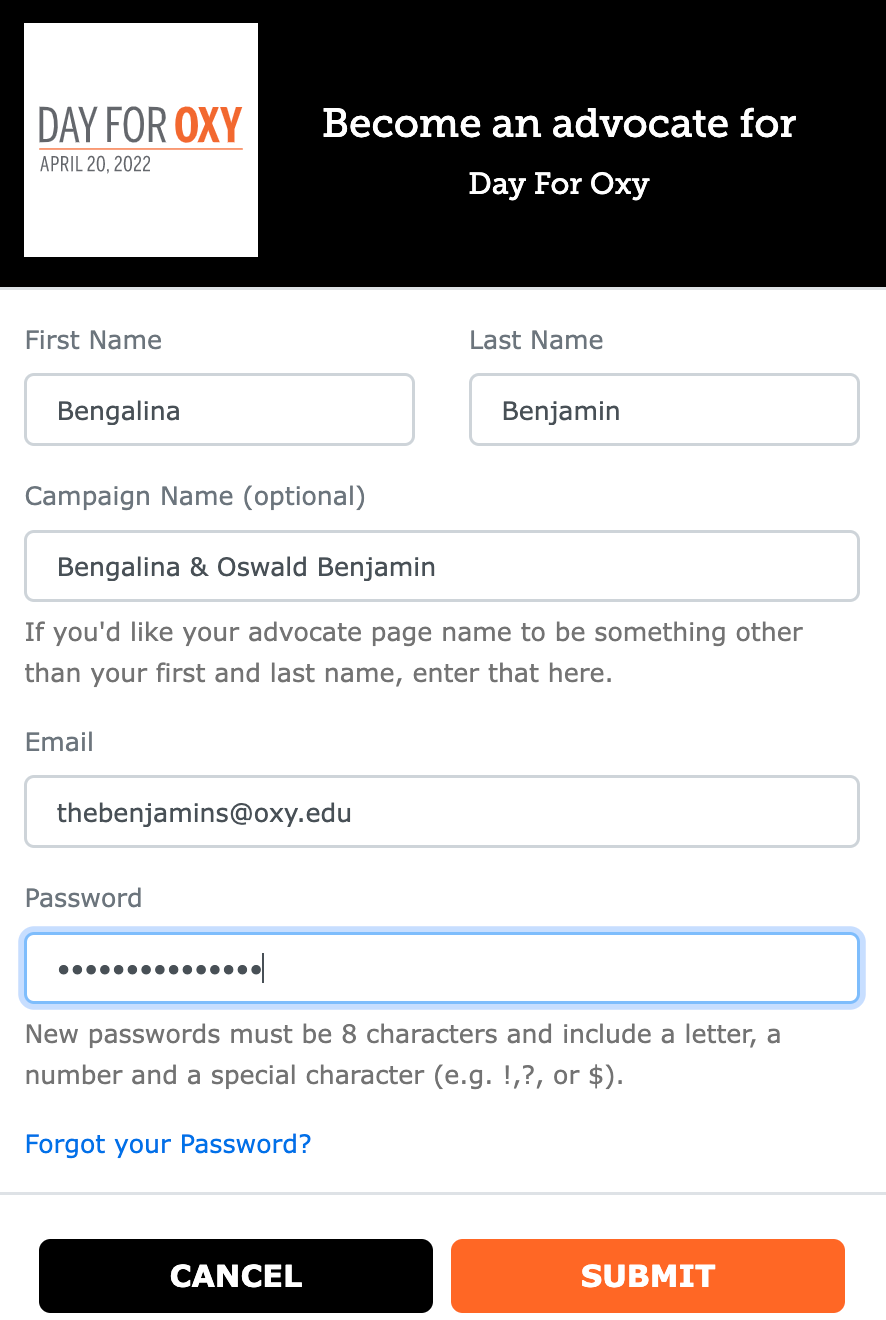 1. Create your account by visiting givingday.oxy.edu/fundraisers and clicking "Sign Up" on the right-hand corner of the page. Then enter your name, email address, and a password.

You will receive an email with a link to "Get Started!". Please follow the link to activate your account and visit your Fundraising Dashboard.

Tips:
If you'd like to Advocate with your spouse or a group of friends, add your combined names or group name in the Campaign Name field.

To access your dashboard at any time, just visit GiveGab.com, log in with your credentials, and click "Dashboard" under the "Your Personal Fundraisers" section.

2. Customize your Advocate page under "Tell Your Story" on your fundraising dashboard. Use the text box to share your Oxy story, what you love about the College, and why you're asking others to support the Day For Oxy. Add a photo and/or video to personalize your page.

You will be asked to set a personal fundraising goal for the Day For Oxy. You can set this required goal at whatever amount you are comfortable with!

Tips:

We recommend sharing your story in 500-750 characters.

If you have a specific area of the College that you'd like your network to support, include that in your "Tell Your Story" message. An example: "Please consider giving to the Oxy Fund at checkout and make an immediate impact with your gift. Your gift to the Oxy Fund will support the College's most pressing needs, including student and faculty technology resources, health and safety supplies, and increased financial aid for families."

3. Spread the word by sharing your unique profile link via social media, email and text message.

On your Dashboard under "Share Socially," you can use the built-in Facebook and Twitter share buttons or copy your unique link to paste in an email, text, or social media message.

When sharing your link, remember to include a message about why you're asking others to support the Day For Oxy. And, don't forget to use the sample social posts, Day For Oxy graphics and email templates located in your Advocate Toolkit.

Reminder: Always include your unique profile link in all of your communications. Your supporters must give through your page in order for their gift to count toward your fundraising goal!


4. Lead by example by considering a gift in any amount to the Day For Oxy. It's always inspiring for your network to see that you are supporting the cause and asking them to join you. You can make a gift to your page under "Make a Donation" on your fundraising dashboard.

5. Witness your impact by tracking your progress toward your personal fundraising goal on the Day For Oxy. Your name and a link to your personal page will be showcased on our main Day For Oxy Advocates page.

6. Thank your donors under the "Give Thanks" section of your dashboard. Here, you can view who gave through your page and send them a thank you directly through your dashboard. Your donors will be featured under "Recent Donors" on your Advocate page on the Day For Oxy.

Questions?
Please contact Jennifer Conroy, Associate Director of the Oxy Fund for Class Giving, conroyj@oxy.edu or 323-259-1349.